Health & Beauty > Fragrances > Unisex Fragrances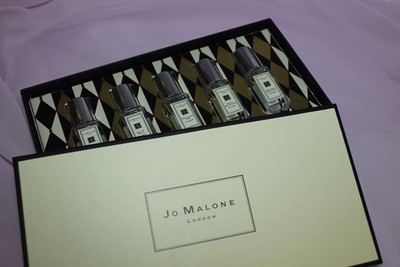 Time left:

22 days 7 hours
Item Number:

322518754017
(Last Updated: 2 Hours 3 Minutes ago)
Payments:
Credit Cards processed by PayPal
Shipping:
Free Economy Shipping from outside US
Location:
Москва, default
Similar items you may be interested in
Description
JO MALONE COLOGNE COLLECTION SET НАБОР 5*9МЛ (ОДЕКОЛОН lime basil&mandarin+basil&neroli+pomegranate noir+mimosa&cardamom+wood sage&sea salt) Absolutely new! LIME BASIL & MANDARIN From the famous perfumer Jo Malone was published in 1994. The luxury of the classics and the brilliance of modernity harmoniously intertwined in this unique perfume for women and men.

The aftertaste of a summer thunderstorm, gusty wind and heavy rain.

The charm of tangerine-lemon juicy freshness will not leave indifferent admirers of citrus aromas.

Shades of needles cool nicely.

The invigorating chords of lime and mandarin bring an extraordinary freshness.

The shades of thyme and basil add spiciness and exhilarating variability to your image.

A gentle, light smell captivates the heart, with it you just want to meet again and again.

Like Jo Malone Vetyver, perfume perfectly refreshes on hot summer days. basil&neroli Soft, light, summer-cheerful flower-citrus aromatic composition, created in 2016 by the popular British perfume house Jo Malone.

Simple, but impeccable in sound, almost magical, perfume, something like a gentle watercolor, in which translucent colors flow into each other, creating an amazing drawing-mood. pomegranate noir From the famous Jo Malone was established in 2005. The ornate and very in idual smell of it will suit people charismatic, unpredictable.

The perfume is seductively saturated, sparkling, intriguing and unusually erotic.

The magnetic beauty of the aroma of black pomegranate is the main component of the perfume, around which harmoniously sang notes of berries and spices, emphasizing the image of its owner with an unusual in iduality.

This fragrance quickly won elite clubs and social receptions at the time of the appearance of glamor.

In combination with Jo Malone Nutmeg & Ginger, he will give the image of his owner an even more style and provocation. mimosa&cardamom Jo Malone released the unisex track Mimosa & Cardamom in September 2015. The author of the floral spicy perfume was Marie Salamagne.

A warm and sunny bouquet enchants with the golden-sweet haze of the mimosa, gracefully enveloping the piquant patches of freshly ground cardamom.

The creamy note in the bouquet is enhanced by the noble wood of sandalwood and exquisite heliotrope.

And the sensual damask rose perfectly shades flower-spicy nuances, gently dissolving in the bewitching overflows of smoky-tender beans thin.

Elegant Mimosa & Cardamom is an embodiment of gentle sun rays, light, warm and incredibly charming perfume. wood sage&sea salt A new unisex flavor of 2014 from the British brand Jo Malone, which is released in limited quantities.

Perfume Christine Nagel in her fragrance reflects the atmosphere of the sea coast of Britain, where its cool, a strong wind blows, foamy waves play on the sea, and woody, salty and herbal smells are in the air.