Health & Beauty > Medical, Mobility & Disability > Monitoring & Testing > Diabetic Aids > Monitoring Kits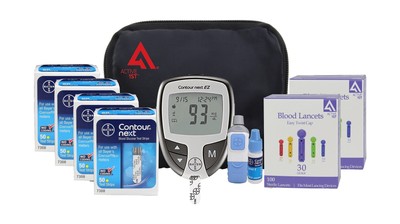 Similar items you may be interested in
Description
Description New Active1st Bayer Contour NEXT Diabetes EZ Meter Testing Kit, 200 Test Strips, 200 Lancets, Lancing Device, Control Solution, Reference Guide, Log Book Carry Case by Active1st Product Description Size:200 Strips A glucose meter (or glucometer) is a medical device for determining the approximate concentration of glucose in the blood.

New diabetic patients find it challenging to insure that appropriate supplies are accounted for, to receive accurate results for his/her glucose level test.

This blood glucose starter meter kit provides all the appropriate supplies that is required to test your sugar level.

The Bayer Contour NEXT Diabetes Kit includes a Diabetic glucose meter, 200 test strips, a box of Active1st 30 gauge twist off sterile lancets 200 count, a surgical lancing device, control solution & a carry case.

This Diabetes EZ meter is the 1 most accurate glucose meter on the market.

It has, easy to press buttons and is highly recommended for all diabetic patients especially seniors.

The test strips will Only work with a Bayer Contour NEXT Meter and not with a Bayer Contour meter.

This Bayer Contour Next Meter provide multiple extensive options. 1. This glucose meter will save pre and post meal testings up to 480 results, with time and date and alarm reminders.2. There is no coding thats required to type into the meter, all you do is place the test strips into the diabetic meter and apply minimal blood to the sample test strips.

In five seconds the results will appear in large clear font.3. If you mistakenly provide too little blood, the meter will beep twice and you can apply more blood to the same test strip up to 30 seconds without disposing the test strip.4. All supplies are fresh with long lasting expiration dates.

All the products in this kit is required and or will make it easier to receive the most accurate blood sugar results.

These meter options will keep track of your sugar levels from previous readings easy and efficiently.

Warning: Contains small and sharp parts.

Keep out of reach of small children and pets.

Shipping Weight: 12.8 ounces UPC: 759526638524 Product Features INCLUDED: Bayer Contour NEXT EZ Meter, 200 Bayer Contour NEXT Test Strips, 200 Active1st Lancets, Lancing Device, Control Solution, Instruction, Quick Reference Guide, Log Book & Compact Carry Case.

SMALL SAMPLE SIZE: Only a tiny blood sample required.

Get results within 5 seconds.

ACCURATE: One of the most accurate Blood Glucose Monitoring Systems available.

FOR HOME & PROFESSIONAL USE: One of the easiest Glucometers to use.

Instructions are simple and easy to understand.

Use at home, work or as a professional healthcare provider.

BBEST SELLING KIT: This kit has been a best seller for over 2 years.

It has EVERYTHING needed to start testing, right out of the box.

Expiration dates are usually 12-28 months from time of purchase.

Terms of Sale All of our products come with FREE Standard Shipping! Our preferred method of payment is PayPal.

Handling time on our orders is usually between 1-2 business days.

Once the package has been shipped out, it should reach your doorstep within 3 - 5 business days! Need your item fast? We offer faster shipping methods for your convenience available upon checkout! Please make sure your shipping address is correct and accurate before completing your checkout.

We are not responsible for incorrect or undeliverable addresses and can ONLY ship to the address you provide us in your order.

Please be aware that we are a clearinghouse for manufacturers and major suppliers, and in order to provide you with the fastest service, the item may be shipped directly from our distributor.

In the unlikely event that the item is sold out or on back order, we will issue a full and immediate refund.

Currently, we only ship to physical addresses located within the 48 contiguous states of America.

Certain items can be shipped to PO Boxes, please contact us to confirm shipping eligibility.

APO/FPO addresses, Alaska and Hawaii are outside of our shipping zone.

Returns and Exchanges We will gladly accept all returns, no questions asked, within 30 days of the purchase date.

Please send us a message or open a Return Request through Ebay if you intend to return a product and we will provide you with a Return Merchandise Authorization number (RMA). All refunds/exchanges must be returned with the RMA label we provide.

Satisfaction Guarantee Customer satisfaction is our number one priority.

We will do everything in our power to make sure you are completely satisfied with your purchase.

Have a question about an item or concerns on an order? Let us know through Ebays messaging system and well get back to you within 24 hours!