Health & Beauty > Medical, Mobility & Disability > Daily Living Aids > Hearing Assistance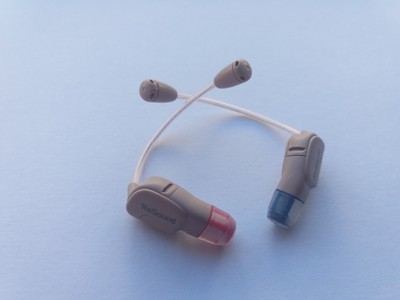 Time left:

11 days 1 hours
Item Number:

112401248109
(Last Updated: 34 Minutes 24 Seconds ago)
Payments:
Credit Cards processed by PayPal
Shipping:
$20.00 Economy Shipping from outside US
Similar items you may be interested in
Description
Late in 2013, a new range of pioneering hearing technology was introduced to the market place by ReSound, named the Lex.

The intuitive design makes it uniquely placed to resolve your hearing requirements promptly, with the minimum amount of disruption.

Worn as a remote microphone hearing aid, it is barely visible, simple to fit and so comfortable, you may forget it's there.

There are two technology levels available.

The Lex 8 is the advanced model of the range, having replaced the ReSound Be 9. The Lex 4 is the low cost version with a more simplified specification.

So what makes the Lex 8 Hearing Aid so special? The Lex 8, marries the very latest technology with beautifully crafted engineering, to create a discreet and comfortable hearing device that is barely noticeable when worn.

For those with a mild to moderate hearing loss who require an instant fit, no hassle, remote microphone hearing aid, the Lex 8 is well worth a closer look.

Key Features: No need to wait.

The saying 'All good things come to those who wait' no longer applies to hearing aids.

The intuitive design of the Lex 8 means that it is entirely possible for you to walk out of your initial consultation with a hearing devise that is fitted to perfection and doing its job.

Size matters.

The Lex 8 was designed with two things in mind, to provide optimal comfort and to be as discreet as possible.

It is worn cradled neatly within the natural contours of your ear, which is great if you wear spectacles.

To achieve the ideal bespoke fit there is a selection of tube and dome sizes to choose from.

Be surrounded by sound.

In order to optimism your hearing capability and keep it as natural as possible, the Lex 8 contains a built in surround sound system.

Seventeen sound processing channels.

The Lex 8 is jam packed with technology, allowing you access to a large array of sound frequencies, providing precision hearing even in the most difficult of circumstances.

What, no whistle? It's true, now that ReSource has included a fantastic technical feature called Digital Feedback Suppression (DFS) Ultra, the Lex 8 produces clarity of sound, with no irritating feedback to contend with.

Pioneering technology working for you.

Noise Tracker II technology is designed to work in tandem with the Environmental Optimizer II feature.

As a result, the Lex 8 adjusts automatically to sound levels and environmental change.

It reduces intrusive background noise, specifically in crowded, over populated areas, allowing you to concentrate on the finer points of a conversation.

Wind defence.

Trying to conduct a conversation outdoors is difficult at the best of times, so the Lex 8 has been designed to minimise the impact of wind noise upon sound quality, leaving you free to wander where you will.

As a remote microphone hearing aid, the Lex 8 is not designed for wireless connectivity.

This may prove too restrictive for some users.

If this is the case, you might find the following site better suited to your requirements.

To summarise: The Lex 8 is an inconspicuous, intuitive remote microphone hearing device that can be fitted during your initial consultation.

It is designed specifically for those who suffer from a mild to moderate hearing loss.

Bursting with the latest technology, the Lex 8 is quick to fit, simple to use and ultra comfortable when worn.

A real contender if you are looking for a convenient and swift resolution to your hearing requirements.

Comes without original packaging.

Never used.

New technology.

Please look at the photos as they are part of the description!